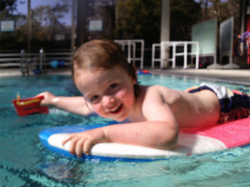 Undergraduate and graduate students are eligible to use all UC San Diego sports facilities including RIMAC, the Main Gym, and the Canyonview Aquatic Complex. Just present your campus card (or UC San Diego Recreation Card during summer only).
Children ages 9 and under may enter free with an adult card-holder. Children and dependents age 10 and older may apply for a Recreation Card to use campus facilities.
Check out the wide range of recreation classes and workshops offered for students each quarter — as well as their youth programs.
UC San Diego Recreation
More youth camps & family activities