Priority Enrollment Program for Undergraduate Students with Children
Priority Enrollment Program for Undergraduate Students with Children
Last Updated: July 10, 2020 9:40:31 AM PDT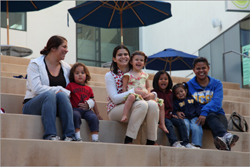 Learn about the Priority Enrollment Program for undergraduate students with children.
If you are a student-parent who provides primary care for a minor dependent you may be eligible for priority enrollment.
The program is intended to alleviate complications related to scheduling conflicts between parental responsibilities and UC San Diego classes and course work. To be eligible:
Your status as a parent must be verified through UC San Diego's Financial Aid & Scholarships Office using information from the Free Application for Federal Student Aid (FAFSA). If you have not yet completed the FAFSA, do so as soon as possible at fafsa.ed.gov. Allow several weeks for the Financial Aid & Scholarships Office to receive the information from the central processor.
We ask that you explain how priority enrollment status will assist you in your (a) Academic Success (b) Personal and Family Wellbeing. This is done on the priority enrollment request form that will be sent to eligible students in October of each year from the Financial Aid & Scholarships Office.
*If you become a new parent in the middle of the quarter and would like to learn about this program and your eligibility for priority enrollment, please contact the Financial Aid & Scholarships Office.